P-47D Thunderbolt MX-X "No Guts- No GLory" 82FS 78th FG, Capt. Ben Mayo, RAF Duxford, June 1944.
Replaces the winter camouflage textures.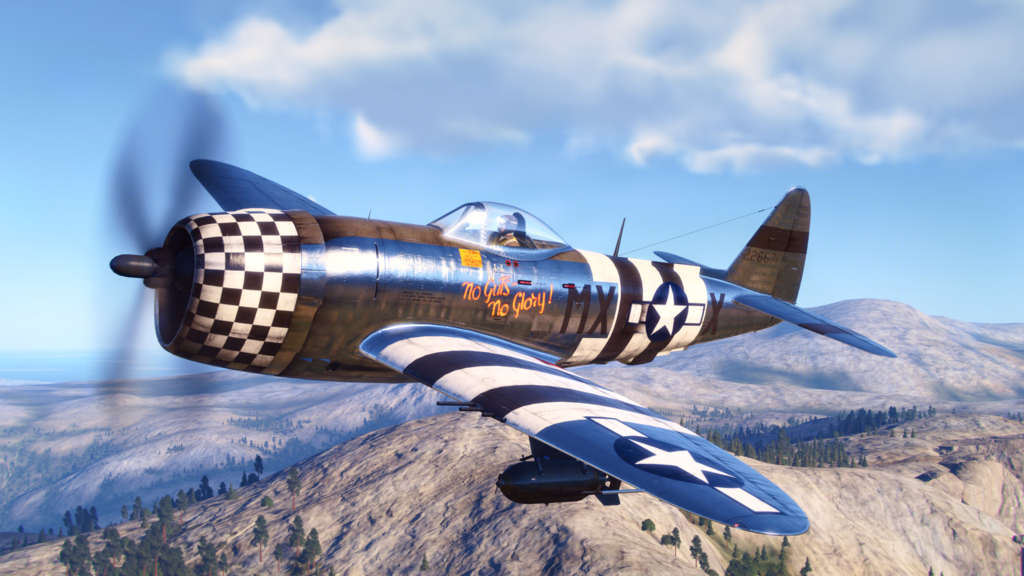 Built in greater quantities than any other US fighter, the P-47 was the heaviest single-engine WWII fighter to go into production and the first piston-powered fighter to exceed 500 mph. The Thunderbolt performed 546,000 combat sorties between March of 1943 and August 1945 and is considered the real forerunner of today's multi-role fighters.
This package includes two seperate skins. The Default skin uses the default US markings from World of Warplanes and only has the invasion stripes, black bands on the tail surfaces and checkerboard markings on the nose. The Custom version has all markings painted on, including the name "No Guts- No Glory" on the side of the fuselage, and requires the use of the additional files to remove all the default US markings found at https://onedrive.live.com/?id=8BDD90047E8D5705%21487&cid=8BDD90047E8D5705.
You can download the skin package at: noguts_noglory.zip
Edited by hawkeyededic, 11 May 2017 - 05:43 PM.