The basic armament of the F-104 was the 20 mm (.79 in) M61 Vulcan Gatling-mechanism autocannon. This weapon frequently had shell ejection problems due to linked ammunition resulting in avionic problems and crashes. A linkless ammunition feed system was developed for the upgraded M61A1 installed in the F-104C and later models. The Starfighter was the first aircraft to carry the new weapon, which had a rate of fire of 6,000 rounds per minute. The cannon, mounted in the lower part of the port fuselage, was fed by a 725-round drum behind the pilot's seat, giving only a continuous 7+ second burst of fire. It was omitted in all the two-seat models and some single-seat versions, including 
. The F-104C and later models added a centerline pylon and two underwing pylons for bombs, rocket pods, or fuel tanks.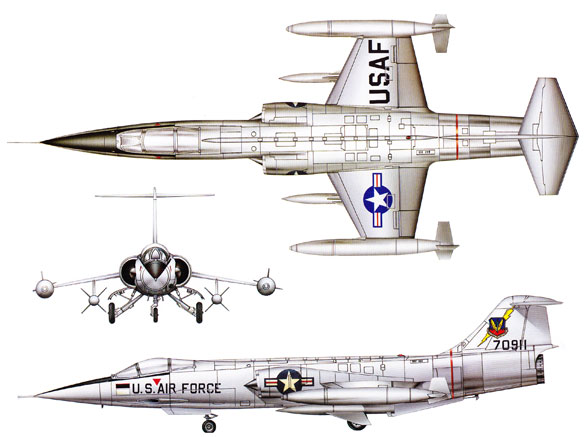 Edited by FreeFOXMIKE, 31 March 2017 - 12:10 PM.