F4U-1D Corsair, VF-84, USS Bunker Hill, Carrier Raids on Japan, February 1945.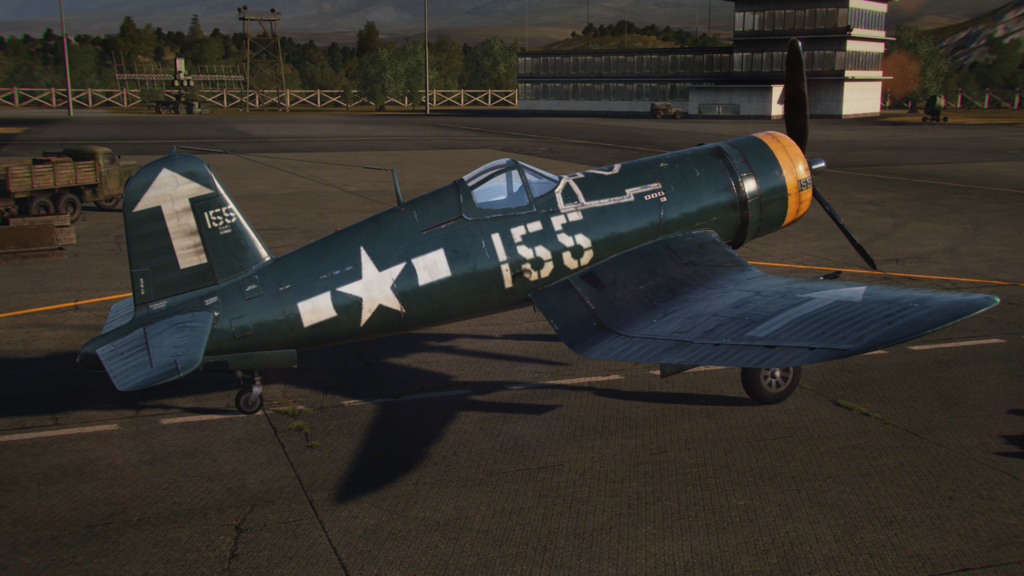 Fighter Squadron 84 (VF-84) was formed around a nucleus of veterans of VF-17, the Jolly Rogers, flying F4U-1D Corsairs, under the command of Lt. Cdr. Roger R.Hedrick, the former executive officer of VF-17.
Assigned to the Carrier Air Group 84 aboard the USS Bunker Hill. as part of Task Force 58, they participated in the final drive across the central Pacific. Taking part in the invasion of Iwo Jima, raids on Tokyo and other targets in Japan, the sinking of the battleship Yamato and support of the invasion of Okinawa, including combat air patrol over the invasion fleet to defend against Kamikaze attack, and ground support for the embattled Marines.
On 11 May 1945, while off Okinawa, two Japanese kamikazes struck the Bunker Hill in quick succession, with a bomb penetrating to the pilots' ready room, killing 22 members of VF-84. Both the Bunker Hill (then the TF-58 flagship) and CAG-84 were knocked out of the war. VF-84 was reformed in July 1945 as an F6F Hellcat squadron, but the war ended while it was still in training and was subsequently disbanded on October 8th, 1945.
VF-84 was credited with 92 kills with the loss of just 4, aircraft, nine of the squadron's pilots became aces.

<<<<NOTES>>>>
The F4U-1D Corsair differs from the in-game Corsair in that it was equipped with a blown canopy instead of the framed canopy that is on teh Corsair in the game. Historically the F4U-1D was equipped with 6 Browning AN/M2 .50cal machine guns, and was capable of carrying a 1000lb bomb load and 5 HVAR rockets, in addition to long range fuel tanks and NAPALM, something that is not possible in game.
You can download it at: VF-84.zip, You will also need the files to remove the US markings found HERE.