1
On This Day in history....
Started by
Snoticus
,
Feb 04 2017 11:54 AM
#1
Posted 04 February 2017 - 11:54 AM
tlhIngan maH!
Heghlu'meH QaQ jajvam!
---
#2
Posted 08 February 2017 - 07:29 AM
Snoticus, on 04 February 2017 - 05:54 AM, said:
7 February 1984: During mission STS-41-B, NASA astronauts Captain Bruce McCandless II, United States Navy, and Colonel Robert L. Stewart, United States Air Force, left the Space Shuttle Challenger (OV-099) on the first untethered space walk.
McCandless tested each of the Manned Maneuverung Units (MMU) while Stewart tested a work station. For 5 hours, 55 minutes, they used the nitrogen-fueled Manned Maneuvering Units (MMU) to move about the outside of the space ship. At the farthest, McCandless was 320 feet (98 meters) away from Challenger.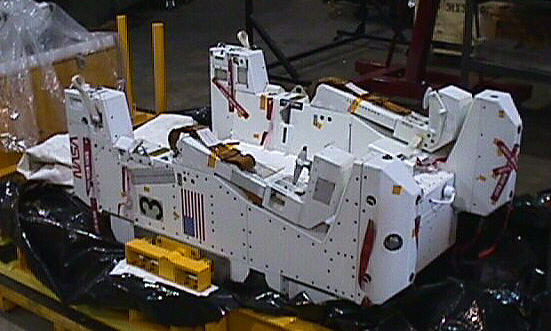 Manned Maneuvering Unit #3 in the collection of the National Air and Space Museum.
The Manned Maneuvering Unit was designed and built by Martin Marietta Corporation (now, Lockheed Martin). It is constructed primarily of aluminum. The MMU is powered by two batteries with 852 watts at full charge, and propelled by 24 gaseous nitrogen thrusters, providing 1.4 pounds of thrust (6.2 newtons), each. The astronaut controls the MMU with two hand controllers. It has six-axis motion and automatic attitude hold. Including a full supply of nitrogen, the MMU weighs approximately 338 pounds (153.3 kilograms). It is designed for a maximum of 6 hours of operation. The unit is 50.0 inches (127.0 centimeters) high, 33.3 inches (84.6 centimeters) wide and with control arms extended, has a maximum depth of 48.0 inches (121.9 centimeters).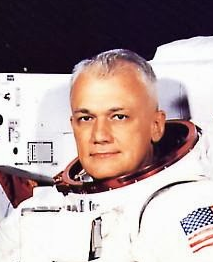 Bruce McCandless II (NASA)
Bruce McCandless II is the son of Rear Admiral Bruce McCandless, who was awarded the Medal of Honor for his actions aboard USS San Francisco (CA-38) at the Naval Battle of Guadalcanal, 12–13 November 1942, and grandson of Commodore Byron McCandless. He graduated second in his class at the United States Naval Academy, Annapolis, Maryland, in June 1958 and was trained as a Naval Aviator at Pensacola, Florida. McCandless then served as a fighter pilot, flying the Douglas F-6A Skyray and McDonnell F-4B Phantom II.
Bruce McCandless II was accepted into the NASA astronaut program in 1966. Though he was involved in the Apollo Program, he did not fly until the space shuttle became operational. He served as a Mission Specialist aboard Challenger(STS-41-B) in 1984, and Discovery (STS-31) in 1990.
         332 Virtual  Fighter  Group
---
---
1 user(s) are reading this topic
0 members, 0 guests, 0 anonymous users