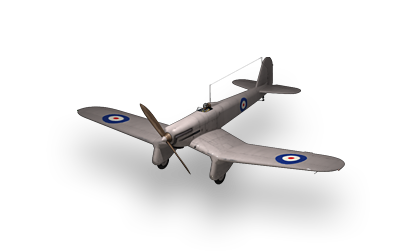 Tier III Supermarine Type 224 "Promotional"
The Type 224 is, for all intents and purposes, a tier V Spitfire in tier III clothing, and was made available from Razer, PCGamesn, Spong and various other sites.
Pros:
Above average

maneuverability

vs tech tree counterparts

(rated at 353.

Bristol Type 133 rated at 350, Blackburn Skua rated at 317,

with optimal upgrades).

Above average firepower.

Long heat cycle for

weapons when firing.
Cons:
Slightly below average air speed.

Large size for a fighter.
The mounted 303 Browning Mk.II (W) is shared with the Bristol Type 133, Bristol Type 146, Miles M.20, Supermarine Spitfire I, Supermarine Spitfire V and Supermarine Spitfire IX. The mounted 303 Browning Mk.II (С) are unique to this aircraft.
(Source: A quick guide to premium aircraft by Quesnel)
I haven't found any topic on the forum about this plane, so I figured I create one. I was very happy when I got this aircraft, even though I'm a USA-fanatic. There's something about this one, maybe that it's so simple-looking and kinda ugly, but it's actually pretty in it's ugliness. I love the size of the plane, even though it's a Tier III, it looks like a heavier plane. The four MGs are fantastic and quite honestly, I don't feel any sluggishness compared to other Tier III fighters, it turns zippy and it has an okay speed.
It's funny that while I do have a World of Tanks account as well, I play Warplanes differently... while I usually try to grind my way as high as my time allows in WoT (with 3 kiddos and a wife, it's not easy :) ), in WoWP I actually enjoy "being stuck" on lower tiers. It might be because I suck at planes (I really do), or just because I do all the grinding-work in tanks, and do all the fun-games in planes... but this Tier III plane is very much to my liking. Also, the rareness of it is a nice touch (I do own the I-15 bis DM-II and the Chinese Hawk III, but those can be seen fairly often compared to the Type 224).
How do you guys like this plane? Any opinions, suggestions, stories to share? Don't hold back!
Attached Files
supermarine-t-224 ingame.png 1020.01K